Sailing Directions
When entering Salem from Mass Bay pass either side of Cat Island or Marblehead Rock but follow your charts carefully. Steer for South Channel (Marblehead Channel) towards Grays Rock, leave Grays Rock to starboard and pass the RW bn at Kettlebottom Ledge to port. Head directly to green can "1" and red nun "2" and once through steer for Naugus Head and the entrance to Salem Harbor keeping red nun "4" and the two beacons that mark the Aquavitaes well to starboard. Once in the main channel off Naugus Head turn left down the harbor or right for Winter Island.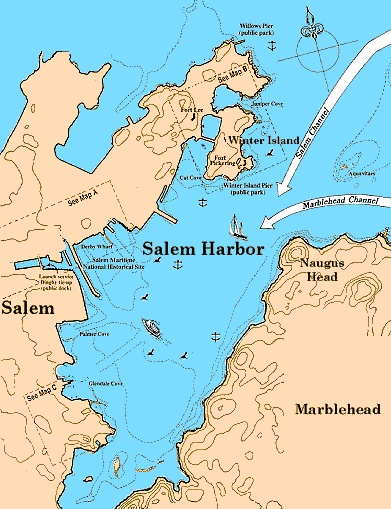 If heading southwest from Gloucester and points east, enter Salem Channel between Bakers and Misery Island and follow the well-marked deep water channel past the entrance to Beverly Harbor and around to Salem.
For assistance, pump-out facilities, moorings or dockage, call the Salem Harbormaster on Ch. 16/Ch. 12 or contact any of the boatyards and marinas listed below.
Marine Facilities and Services
Salem Mooring Services
Salem, MA 01970 978-745-0059
Tight Line Charters
Pickering Wharf, Salem, MA 800-755-8808
Yacht Surveyor
23 Congress Street, Salem, MA 978-741-4365