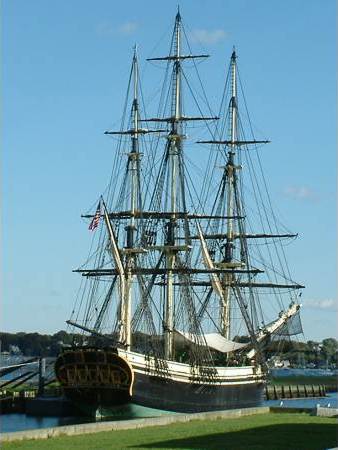 Friendship
, a reconstruction of a 171-foot three-masted Salem East Indiaman built in 1797, arrived on September 1, 1998 at the National Park Service's
Salem Maritime National Historic Site
in Salem, after two years of construction at Scarano Boat Building in Albany, NY. She is the largest wooden, Coast Guard certified, sailing vessel to be built in New England in more than a century. 
Additional work on the ship was done by staff from Salem Maritime NHS, the Naval Historical Center Detachment Boston, and Dion's Yacht Yard of Salem. In mid-October 2000, Friendship was moved to the Charlestown Navy Yard in Boston and moored in front of the USS Constitution. There her upper masts and yards were installed as NPS Riggers and Carpenters worked in conjunction with the USS Constitution's M & R staff.
The replica is based on a model of the original Friendship at the Peabody Essex Museum, as well as several paintings of the ship and numerous documents, including logs of the ship's voyages.
The new Friendship is part of the National Park Service's larger exhibit area at Salem Maritime National Historic Site. She is a fully operational sailing vessel but stays close to home so that everyone can come aboard. On special occasions she sails as Essex County's flagship, visiting ports along our coast to join in maritime festivals and events.
The Original Friendship
Construction on the original Friendship was begun in 1796 by shipbuilder, Enos Briggs, known for the Frigate Essex, at his shipyard across from today's Salem Maritime National Historic Site. The original three-masted, square-rigged, 342-ton vessel, Friendship, was registered in 1797 to merchants Jerathmiel Peirce and Aaron Waite.
She travelled the world trading for exotic spices, sugar and coffee, making 16 voyages to China, Java, Sumatra, Madras, London. Hamburg, Archangel, St.Petersburg, and other European ports. She was captured by the British in the War of 1812. The Peabody Essex Museum houses the ship logs for several of her voyages, as well as Aaron Waite's shipping papers detailing information about the ship's accounts.
Friendship Today
Visitors can tour Friendship and watch the volunteers and staff working on her at the historic wharves at Salem Maritime National Historic Site. In addition to being open for tours as part of the programs of the Site, Friendship sails as an ambassador ship for the Essex National Heritage Area.
Friendship is maintained in Salem by National Park Service staff and volunteers. Through an exclusive arrangement between the National Park Service and the Salem Partnership, you can enjoy the use of one of Salem's most unique and imaginative venues Friendship of Salem, for your corporate or social special event.
For further information contact:
For the most complete and up to date information on Salem Maritime hours of operation or changes to tour times, please visit: www.nps.gov/sama or call; 978-740-1650.
Friendship is open all year, weather permitting. For a schedule of tours, please visit the Salem Maritime site information. It's always a good idea to call the Orientation Center at Salem Maritime, 978-740-1650, to confirm the tour schedule.
To inquire about the use of Friendship, please contact the
Salem Maritime National Historic Site
160 Derby Street, Salem, MA 01970
Phone: 978-740-1650