Pioneer Village
Salem 1630
America's first living history museum is not Colonial Williamsburg or Plymouth Plantation but Salem's own Pioneer Village
In 1930, the city of Salem set out to re-create Salem as it would have appeared at the time of John Winthrop's arrival in 1630. The project was part of Salem's contribution to the Massachusetts Tercentenary celebration in 1930.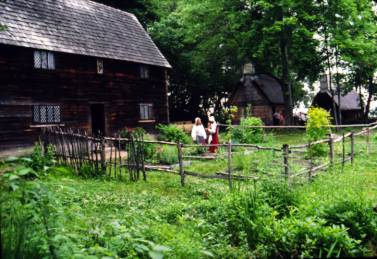 Overseeing the recreation was George Francis Dow. The noted antiquarian-architect insisted whenever possible 17th century materials and construction methods were to be utilized.
The spot chosen for the 3 acre village was a harbor front site in Forest River Park. The complex featured various types of early colonial dwellings including dugouts, wigwams, and thatched roof cottages. The centerpiece of the village was a recreation of the "fayre house" that had been built for Governor John Endicott after his arrival in 1628.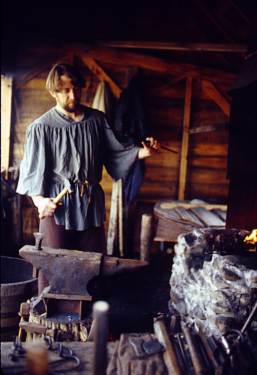 Five thousand plants, trees and shrubs representing species known to have grown in the Salem area in 1630 added an air of authenticity. So did the recreated sawpit, salt works, and blacksmith shop. The city's newest historic attraction even boasted a replica of John Winthrop's ship Arbella.
Pioneer Village opened in June 1930 and remained a popular tourist destination well into the 1950's. Among the tens of thousands of visitors were President Calvin Coolidge and actress Bette Davis. Then for a variety of reasons the site gradually deteriorated over the next few decades. Fires, vandalism, and neglect took their toll. Finally, in 1985, the City of Salem Park Commission voted to raze the village.
A year later, however, the Commission was signing a contract with Pioneer Village Associates, headed by Peter LaChapelle of the Salem Maritime National Historic Site and David Goss of the House of the Seven Gables, to restore and manage the once-popular site.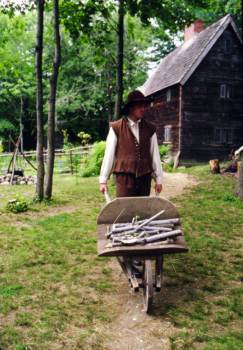 In the ensuing few years Goss, LaChapelle, and other museum professionals and volunteers worked to restore Pioneer Village to its former glory. They cleared and burned acres of brush, planted herb gardens, and rebuilt, with the help of retired carpenter and volunteer extraordinaire Bob Leblanc, every structure In the village. The wigwam and roofs of the cottages were thatched by two brothers from Ireland.
The village was open on a full time basis by the 1988 tourist season. Enhancing the visitation experience were specially bred animals from Plimouth Plantation.The beasts represented the Pioneer Village Associates search for 17th century authenticity whenever finances would allow. In all, the restoration team raised approximately $200,000.
A grand reopening of Pioneer Village was held in June, 1990. The following year Goss and LaChappelle won the American Society of Travel Writers prestigious Phoenix Award for their roles in the restoration effort.
Jim McAllister
All rights reserved